Miniature P25 Rapid Deployment System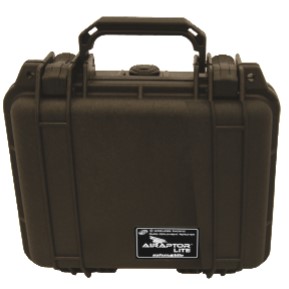 Introducing AIRaptor™ LITE, the world's smallest and lightest P25 digital suitcase repeater, designed to be deployed in every environment, by almost anyone in just minutes.
They are fully code transparent with an internal 8.5AH sophisticated battery management system providing for over 12 hours of heavy voice traffic communications. AIRaptor™ LITE's ultralight (<10lbs), ergonomic weatherproof design means it can be deployed in harsh environments with little or no protection.
Most significantly, it has been optimized so that "talk in" and "talk out" range is optimally bal- anced for P25 portable hand-held radios. This helps insure personnel won't be falsely "lured out" of radio range due to over-powered base station transmissions. With the MERLAN P25 option, the AIRaptor™ LITE units can be hooked together, or linked to existing fixed repeaters, RF control and local base stations to provide dynamic wide area networks. This also allows you to tap into other agency networks for joint operations - anywhere in the world.
Designed specifically for mission critical professionals, make it part of your tactical response inventory today!
SafeMobile Solutions
MOTOTRBO™

TETRA

T25

Rapid Deployment Portable Systems

DMR TIER 3