GARMIN | Outdoor
fēnix 3 HR is the rugged, capable and smart multisport training GPS watch. With feature sets for fitness training plus feature sets for outdoor navigation, fēnix 3 is ready for any training activity and competition.
Uncompromising Multisport Training GPS Watch
Omni-directional EXO™ stainless steel antenna, with GPS/GLONASS satellite reception, has the ability to track in more challenging environments than GPS alone
1.2-inch sunlight readable Garmin Chroma Display™
Fitness training features like VO2 Max and Recovery Advisor (when used with a heart rate monitor¹)
Outdoor navigation features like 3-axis compass, altimeter and barometer, TracBack and Sight'n Go
Connect IQ™ compatibility for customized apps, widgets, watch faces and data fields

fēnix 3 HR is the rugged, capable and smart multisport training GPS watch. With feature sets for fitness training plus feature sets for outdoor navigation, fēnix 3 is ready for any training activity and competition. Access to the Connect IQ platform allows customization of watch faces, data fields, widgets and activities. And, fēnix 3 is a thin, light multisport training GPS that won't slow you down whether for training or every day use.
Serious Style That Stands Up to the Roughest Conditions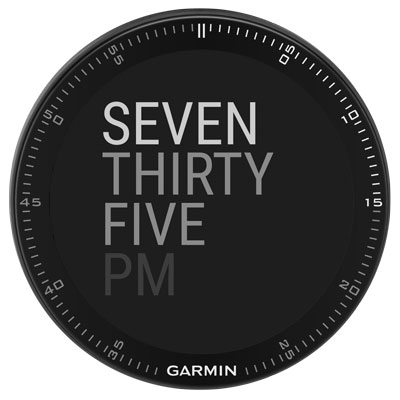 fēnix 3 is available in 3 bold models: gray with high-strength, scratch resistant, crystal and black band; silver with red band; and the premium sapphire model with a stainless steel band and sapphire lens. Each watch features a protective stainless steel bezel and buttons, and reinforced housing for extra durability. A sunlight-visible high-resolution color Garmin Chroma Display with LED backlight lets you access your data in any light. fēnix 3 is water rated 100 meters and has a battery life of up to 50 hours in UltraTrac™ battery saver mode, 16 hours in GPS mode and up to 3 months in watch mode (all depending on settings).
Advanced Fitness Metrics
fēnix 3 HR is packed with training features to tell you about your form and fitness. The first is the VO2 max estimator. When used with a heart rate monitor¹, fēnix 3 crunches data, including your running speed, beats per minute and heart rate variability to estimate the maximum volume of oxygen you can consume per minute. Track changes to your VO2 max to see your fitness gains and to compare with your peers. Other fitness metrics include recovery advisor with a recovery timer and recovery check, plus a Race Predictor, which estimates your ideal finish time based on your current VO2 max number.
Elevate Wrist Heart Rate Technology
fēnix 3 HR watch includes Elevate wrist heart rate technology¹, giving you the option to monitor your heart rate without wearing a chest strap. In addition to counting steps and monitoring sleep, fēnix 3 HR uses heart rate to provide accurate calories burned information and quantify the intensity of your fitness activities.
Swim Profile and Ski/Board Mode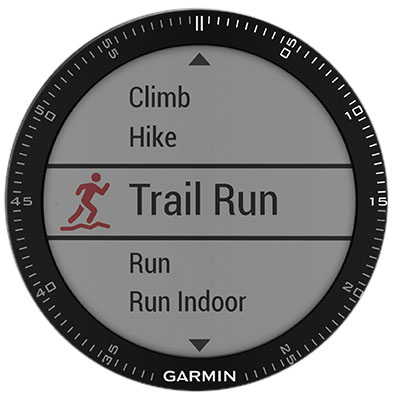 The fēnix 3 isn't just for running; special feature sets help swim training and skiing too. Borrowing from the Garmin Swim™, fēnix 3 tracks your distance, pace, stroke count and more. You just tell fēnix 3 the size of the pool you're swimming in and begin your workout. Ski/Board mode puts speed, distance, vertical drop and an automatic run counter (with Auto Pause for the lift line) and more at your fingertips. You can even use your fēnix 3 as a glove-friendly remote, via ANT+®, for the VIRB® and VIRB Elite action cameras.
Navigate Your Way
No other navigator GPS plus ABC (altimeter, barometer and compass) wristwatch offers you the combined training functions and our leading GPS technology. fēnix 3 provides comprehensive navigation and tracking functionalities to guide you on and off the beaten track. Its built-in sensors provide information on heading, elevation and weather changes.
It records a GPS track log creating a "bread crumb trail" as you move. It also allows you to mark locations, such as a start/finish line, course checkpoint, or a campsite, vehicle or other point of interest. With fēnix 3, you can create and follow courses, mark up to 1,000 locations and store up to 10,000 track points and navigate to them.
Plan trips and share adventures with friends and family using BaseCamp™.
Altimeter, Barometer and Compass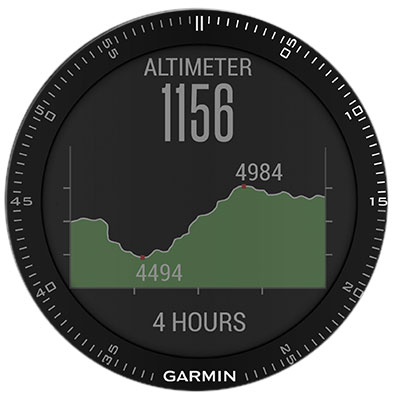 fēnix 3 HR is equipped with ABC sensors to provide relevant real-time information. The built-in altimeter provides elevation data to accurately monitor ascent and descent, while the barometer can be used to predict weather changes by showing short-term trends in air pressure. The 3-axis electronic compass keeps your bearing whether you're moving or not.
fēnix 3 HR auto-calibrates its ABC sensors using its GPS receiver and also auto sets the time based on location. For an extremely accurate temperature reading, pair it with our tempe™ external temperature sensor.
Custom Apps and Watch Faces
Personalize fēnix 3 HR with free downloads from our Connect IQ store. You can customize your watch face, add data fields and get apps and widgets that provide information at a glance.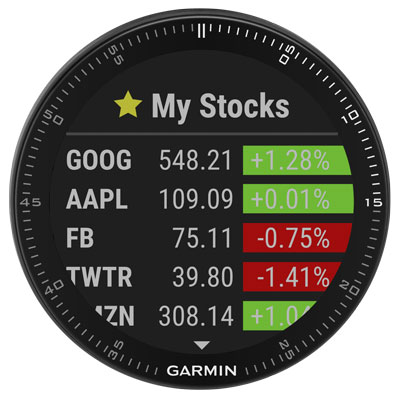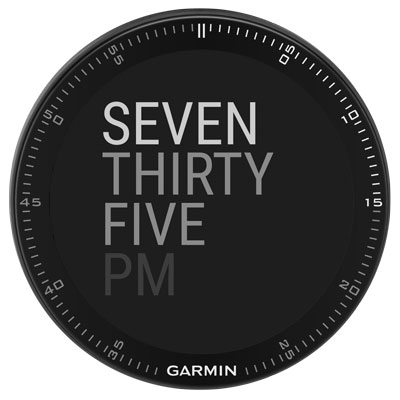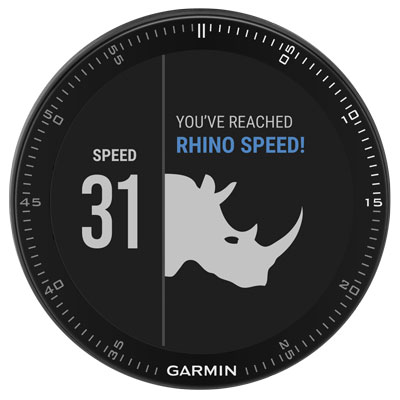 Stay Connected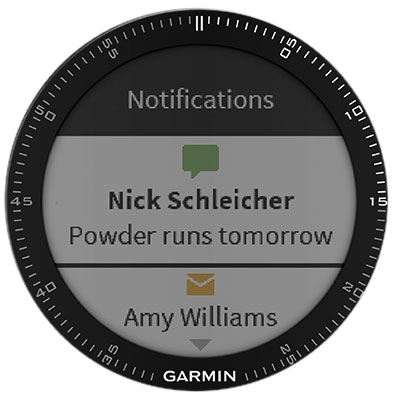 Smart Notifications lets you receive emails, texts and alerts right on your watch, even if you're on the trail. fēnix 3 receives the wireless signal from a compatible iPhone® 4s (or newer) or Android™ smartphone² and let's you know you have a message, displaying the text on its own screen whenever you're ready to read it.
¹Heart rate monitors and HRM-run, sold separately.
²When paired with a compatible smartphone
Device wear and care
The Bluetooth word mark and logos are registered trademarks owned by Bluetooth SIG, INC. iPhone is a trademark of Apple Inc. Android is a trademark of Google Inc.
Specifications
Physical & Performance
| | |
| --- | --- |
| Physical dimensions  | 2.0" x 2.0" x 0.6" (51.0 x 51.0 x 16.0 mm)  |
| Display size, WxH | 1.2" (30.4 mm) |
| Display resolution, WxH  | 218 x 218 pixels; transflective MIP color |
| Color display | Yes |
| Negative mode display | Yes |
| Weight | Silver/Dark: 2.9 oz (82 g) |
| Battery | Rechargeable 300 mAh lithium-ion |
| Battery life | Up to 50 hours in UltraTrac mode; up to 20 hours in GPS training mode; up to 6 weeks in watch mode  |
| Water rating | 10 ATM |
| GPS enabled | Yes |
| GLONASS | Yes |
| High-sensitivity receiver | Yes |
| Barometric altimeter | Yes |
| Electronic compass | Yes |
| Smart notifications (displays email, text and other alerts when paired with your compatible phone) | Yes |
| Vibration alert | Yes |
| Music control | Yes |
| Find my phone | Yes |
| VIRB control | Yes |
| Watch functions | Time of day (12/24h), calendar (day/date), daily alarm, stop watch, timer, sunrise/sunset alerts |
Maps & Memory
| | |
| --- | --- |
| Built-in memory | 32 Mb; available 23 MB  |
| Custom POIs (ability to add additional points of interest) | Yes |
| Waypoints/favorites/locations | 1000 |
| Routes | 30 |
| Track log | 100 hours of activity data |
Running Features
| | |
| --- | --- |
| Virtual Pacer™ (compares current pace to target) | Yes |
| V02 max estimate  | Yes  |
| Recovery advisor  | Yes  |
| Race predictor  | Yes  |
| Running dynamics | Yes |
| Accelerometer (calculates distance for indoor workouts, without need for a foot pod) | Yes |
| Personal records | Yes |
Cyling Features
| | |
| --- | --- |
| Compatible with Vector™  | Yes |
| Multiple bike profiles  | Yes |
| Bike speed/cadence sensor  | Yes (optional)  |
Performance Features
| | |
| --- | --- |
| Heart rate monitor  | Yes  |
| Virtual Partner® (train against a digital person)  | Yes  |
| Virtual Racer™ (compete against other activities)  | Yes  |
| Auto Pause® (pauses and resumes timer based on speed)  | Yes  |
| Multi-sport | Yes |
| Auto multisport (switch sport modes with 1 button press) | Yes |
| Advanced workouts (create custom, goal-oriented workouts) | Yes |
| Pace alert (triggers alarm if you vary from preset pace) | Yes |
| Interval training (set up exercise and rest intervals) | Yes |
| Heart rate-based calorie computation | Yes |
| Calculates calories burned | Yes |
| Training Effect (measures impact of an activity on your aerobic fitness) | Yes |
| Customizable screen(s) | Yes |
Swimming Features
| | |
| --- | --- |
| Pool swim metrics (lengths, distance, pace, stroke count/rate, calories)  | Yes |
| Stroke type identification (e.g. freestyle)  | Yes  |
| Open water swim metrics (distance, pace, stroke count/rate, calories)  | Yes  |
| Swim workouts  | Yes  |
Golfing Features
| | |
| --- | --- |
| Measures shot distance (calculates exact yardage for shots from anywhere on course)  | Yes |
| Yardage to F/M/B (distance to front, middle and back of green)  | Yes  |
| Yardage to layups/doglegs  | Yes  |
| Digital scorecard  | Yes  |
Outdoor Features
| | |
| --- | --- |
| Hunt/fish calendar  | Yes |
| Sun and moon information  | Yes |
Activity Tracking Features
| | |
| --- | --- |
| Step counter  | Yes |
| Auto goal (learns your activity level and assigns a daily step goal)  | Yes |
| Move bar (displays on device after a period of inactivity; walk for a couple of minutes to reset it)  | Yes |
| Sleep monitoring (monitors total sleep and periods of movement or restful sleep)  | Yes |
Garmin Connect™
| | |
| --- | --- |
| Garmin Connect™ compatible (online community where you analyze, categorize and share data)  | Yes |
| Automatic sync (automatically transfers data to your computer)  | Yes |
Chartplotter Features
Additional
Additional 

Connect IQ™ app support: Yes (watch faces, data fields, widgets and apps)

EXO™ antenna (GPS/GLONASS): Yes

Wi-Fi®: Yes

ANT+®: Yes

Bluetooth® 4.0 LE: Yes

Weather Alerts: Yes

UltraTrac: Yes

tempe™ sensor support: Yes

TracBack: Yes

Ski features: Yes

Physiological measurements: Yes

SUP/Rowing: Yes